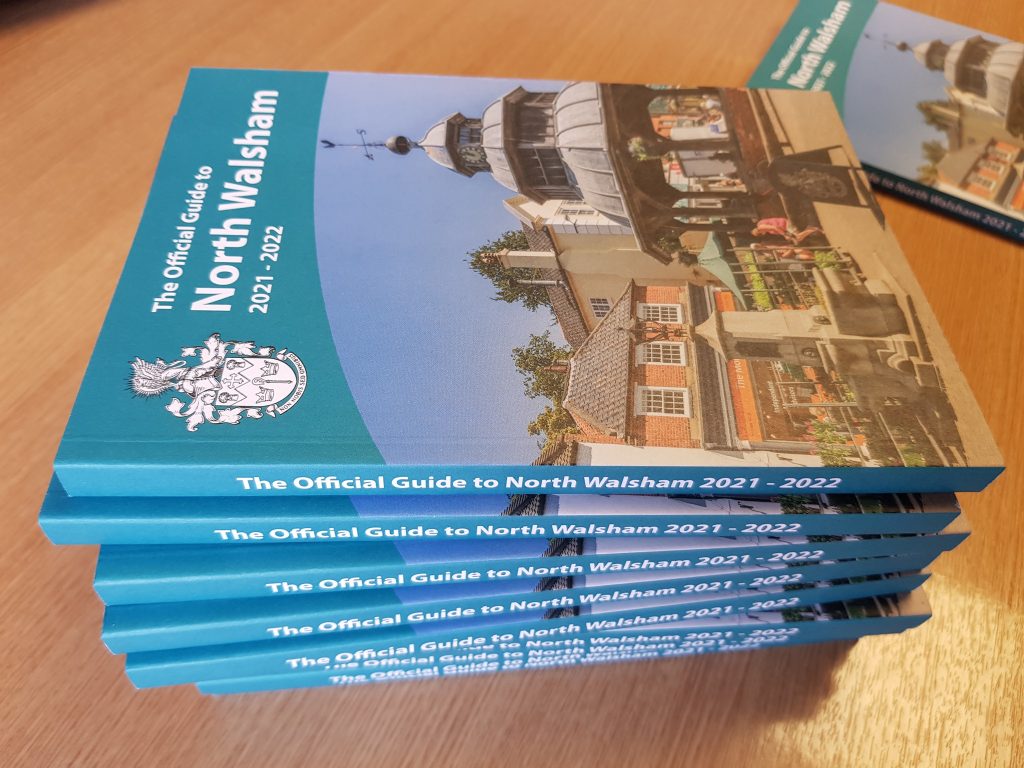 Once again I have spent the last 4 months slogging my guts out to produce a new North Walsham Official Town Guide.
This is the difficult "second album". After the amazing success of the town guide's reboot in 2019, which was bigger than any previous copy of the guide in it's 100+ years life, the new edition had to be equally impressive. It nearly didn't happen. The difficulties anticipated with the restrictions of the recent covid-19 pandemic seemed enough to make advertising sales and production almost impossible. After much deliberation it was decided to 'give it a go' anyway, after all, even if the guide was half the size of the previous edition it would still be a worthwhile town publication. So the projects started in early January, it was hard work but the result was more than worth it. The new guide is even bigger than its predecessor (increasing from 144 full colour, litho printed, book-bound pages to 160 this time) and packed with more useful and historical information and photos than before. To say I'm proud that we managed to 'buck the trend' of the difficult year we've all been through is an understatement.

Adhering to the philosophy of the guide for many decades now, the guide aims to be a publication for both residents and visitors alike. Many of our guides go to local holiday accommodation as a guide for visitors encouraging them to use and enjoy our extensive local facilities. Many go further afield as a window on our town and encourage people to come this way and check out what we have to offer. Many also go to the town's residents as a handy reference to the town we all live in and its facilities. We also distribute to the estate agents in the area and copies are given to new residents and those interested in moving here. The guide aims to be a real asset to North Walsham's economy and sense of community.

Despite being involved with producing all the town guides from 1991 onwards the 2019 edition was the first edition I had been solely responsible for from advertising, finance, production and distribution, a few lessons were learned along the way. I had been told numerous times before that one of the most useful features of the town guides is the map and index for town but with the new book-bound format, required for a book with so many pages, some details was gobbled up centre so this edition features a fold out back cover for the map and index. I also wanted the new guide to be more than a replacement for the previous guide with revised directory details, etc. so I have replaced all the photos in the historical gallery section, sourced 3 new beautiful aerial photographs for the double page spreads ( a new 1928, 1975 and 2020 versions ), replaced many incidental photos, a lovely old painting of the town from the 1800s, 4 prints of Barry Holden's great "lost North Walsham" collection, a whole new section of North Walsham's history in a timeline with bite-size snippets, new photos by Jessica Grace, a guide to North Walsham in print and updated and expanded information for just about everything else. I would like to think this new guide is seen as a companion to the previous edition rather than a replacement.

Once again the guide has been produced and professionally printed completely locally supporting our local economy and the materials used are from sustainable sources (Carbon Balanced Paper) making this an environmentally responsible publication too.

A free publication of this size and quality is something few town's have and the previous edition attracted much attention from various other organisations in the area. This has been possible for various reason. Firstly our mature Facebook Archive group with almost 8,000 members and almost 8 years of vibrant exchange has been the ultimate 'hive mind' with which to research information, verify facts and otherwise engage an enthusiastic online community whose combined knowledge of the town and it's history is so extensive it has never been possible before. A great community in the town has been another major contributing factor in everything from funding to production and distribution. I am in the privileged position to orchestrate the projects with 35 years in the print & design trade, a lifetime in the town, an extensive network locally and my involvement with the North Walsham Archive of which I have been chairman for several years now, taking over from Mike Ling who sadly passed away earlier this year and to whom this edition is dedicated.

Once again the guide is completely free to all residents of the town with copies being distributed to every home in North Walsham, that's almost 7,000 copies delivered free. All funded by the generous support of our advertisers. A further 3,000 copies will be made available from key pick-up points in the town such as the Library, Post Office, Heritage Centre, etc. and various places in the surrounding villages. Details of pick-up points will be shared on our Facebook page www.facebook.com/northwalshamguide as they become available. Copies are also available via the shop on the North Walsham Archive website www.northwalshamarchive.co.uk

There is also a companion website to the guide with searchable directory and information at www.northwalshamguide.co.uk where you can also view a digital copy of the guide online as well as sign up instantly for your own free webpage in the directory as hundreds have already over its 15 year lifespan.