Who is this Wayne Beauchamp bloke and why should I trust him?
I have always lived in and around North Walsham, I was born in the North Walsham Cottage Hospital and schooled in Mundesley, Swanton Abbott and North Walsham. Later on at Norwich City College. I still live in North Walsham with my wife, Bev, and step-daughter, Emmeline. I have two grown up sons, Matthew and Jordan, who have now left home.
I started programming in 1984 in 'Machine Code' on home computers while still at school. When I left school I trained in 'Reprographic Design' and started working as a graphic designer and layout artist at North Walsham printing company 'Express Printing'.
I started creating websites for local bands as a hobby in 1996 and eventually formed the company Beauchamp Partnership in February 2001 specialising in website development and design. Our intention was (and remains) to provide a professional service, offering local businesses an affordable opportunity to have a presence on the web, in one of the most important and rapidly developing areas of marketing and media of recent times.
Over many years I have built strong relationships with other local business people based on trust, respect and understanding of the challenges met by Norfolk business being situated in a rural area. Our genuine interest in the local area, led us to create and sponsor The North Walsham Guide
Due to the success of Beauchamp Partnership we integrated with Express Printing of North Walsham in 2005 to give the company space to expand and utilise the facilities already in existence there, ie. more space, more staff, etc.
In late 2011 the proprietor of Express Printing retired and closed down both the print and web sides of the businesses. I moved to The East Coast Group, a large, North Walsham based company. I was there for four years primarily looking after their design and programming needs as well as providing services for existing customers.
I left East Coast returned to self-employment in May 2016 to carry on offering web design, print design and hosting services to existing and new customers because working for myself allowed me to be more flexible and more competitively priced.
I love to be involved with the local community here in North Walsham and have worked on many websites for local community building organisations…
North Walsham Hospital Friends
North Walsham Fun Day
North Walsham in Bloom
North Walsham Community Shop
North Walsham Heritage Centre
North Walsham Guide
North Walsham Archive
North Walsham Play
North Walsham Community Centre
North Walsham Scouts
North Walsham Live Aid
What else do I do?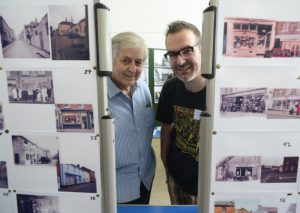 In my 'spare time' I am an active member of the North Walsham & District Community Archive and run the very popular North Walsham Archive Facebook group where photos of North Walsham in days gone by are constantly shared and discussed. Our group also has a regular feature in the 'Just North Walsham' magazine.
I also run the very successful North Walsham Guide which I created as a free service to the local community.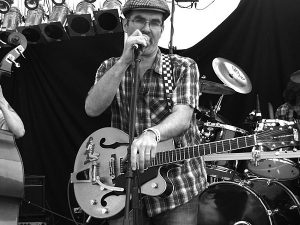 Many people locally know me as a guy who plays in a band as I have been performing in local bands such as The Streamlines, The Ugly Dog Skiffle Combo, Dawg House, King Dinosaur and Big Black Cadillac, non-stop since the mid-eighties and still regularly play at local Fetes, Carnivals, Proms, Weddings, Clubs and Pubs. If it wasn't for my music connections I would probably have never been in the job I am today. Producing artwork for tape covers and posters while still at school and in later years my network of bands, venues and record companies presented many opportunities for projects big and small.