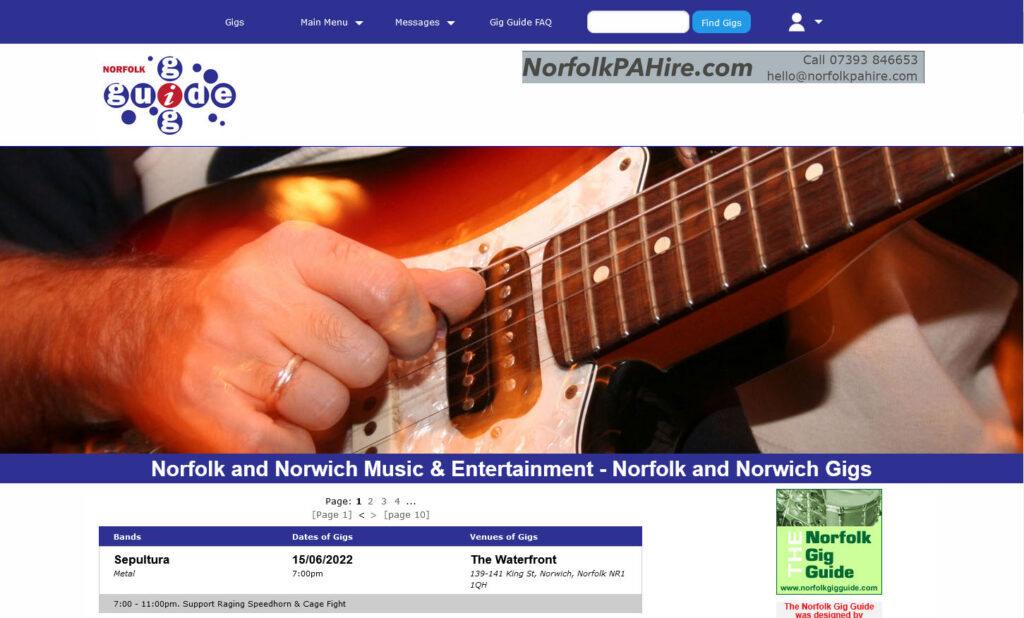 In 2003 (yes 13 years ago) I started building The Norfolk Gig Guide with two things in mind. Firstly it had to be no frills or faff so on arrival to the website the visitor was given a list of the most imminent events in the area. Secondly I wanted bands & venues to have their own accounts and add their own details (at absolutely no cost) so the site would virtually run itself. After all, this was only a hobby website which I stood to make no money out of so I didn't want it to take up loads of my time once launched.
This would mean the site would always be current and of interest to visitors, quick to load and, with the huge amount of information in the site, the regular updates and density of keywords, the site would perform well in search engines. At the time, 2003, there was no Facebook and on-line applications were far and few between.
The result has been fantastic. There is always 1000+ gigs listed on the site. Hundreds of bands and venues use it. Search engine performance is great. On my travels playing in a band I regularly hear musicians and venues talking about listing their dates on this guide (and they have no idea I had anything to do with it!)
I haven't messed with the formula much at all over 13 years. It's still built in 'old skool' ASP and looks much the same as it always did. 'If it ain't broke….'. That said, recently I have modified the site purely because of mobile technology. More people look at websites on phones and tablets now than on PCs. When this site launched this was unheard of, I don't think tablet computers even existed! I think a lot of people who would benefit from this site are those already out and about on an evening and wanting to check who is performing and where.
Thanks to Joseph Hood for doing a great job as admin and promoter for the site for many years now. Here's to the next 13 years!!!
Website – https://www.norfolkgigguide.com