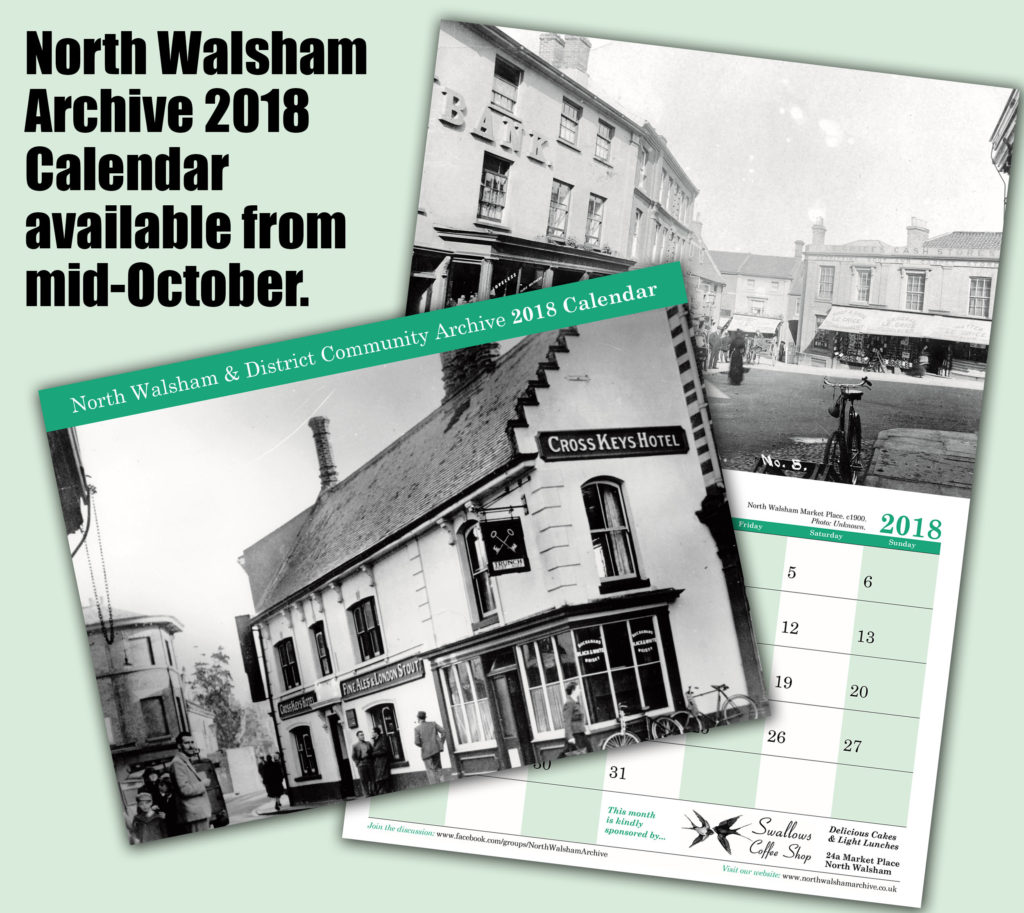 Once again I have produced the calendar for the North Walsham & District Community Archive. This calendar is always popular with the local community and has quickly became one of the highlights of the local community. This year the archive group decided to open the calendar up to local businesses to sponsor months which allowed the group to reduce the sale price of the calendar. The beautiful, hi resolution, photographs are drawn from the North Walsham & District Community Archive's extensive collection of over 10,000 local photographs spanning almost 150 years! Each photo is litho printed to as high a standard as possible and presented in a 2 colour design. It is a privilege for me to be so involved with the local community and in projects which will become part of the town's history just as the photos in this calendar are now. The sales of this calendar also raise money for the group to continue their tirelss work to safeguard North Walsham's heritage.
Thanks to the following local businesses for sponsoring this edition and making it possible…
Just North Walsham.
Proud to support local groups & clubs.
Cafe Kitale.
Modern cafe suitable for the whole family. Plenty of seating inside and out. Dogs welcome.
4 St Nicholas Court, North Walsham. Telephone: 07553 610379.
The Potting Shed.
Seasonal, Shrubs, Trees, Compost, Wild Bird Food, Garden Misc. etc.
Telephone Andy on 07753 412888
Express Printing & Stationery.
Banners, Photocopies, Stationery, Stamps, Phone top-ups, Fax bureau.
38 Market Place, North Walsham NR28 9BT. Telephone: 01692 500121.
Paul Oakes Collectables
We buy: CDs, DVDs, Vinyl Records, Cassettes, Books, Audio Media and all types of Collectables.
pmoakes@btinternet.com Telephopne: 01692 409141 or 07789 306568
Murrell Cork.
Independent funeral directors dedicated to upholding the traditional values of respect & dignity.
57a Mundesley Road, North Walsham NR28 0DB. Tel: 01692 402059. Fax: 01692 500766
PP Auto Ltd.
We do Services, Repairs & MOTs for all cars, Motorcycles and 3 Wheeled Vehicles.
Midland Road, North Walsham. Telephone: 01692 403239
The Tech Geeks.
Fixing Computers, Giving Advice & generally being geek, so you don't have to!
3 Norwich Road, North Walsham NR28 9JP. Tel: 01692 403060
Black Knight Historical.
Historical Workshops in Schools. Tel: 01692 535613. Mobile: 07717 482823
Reef Recruitment.
20 Castle Meadow, Norwich NR1 3DH. Tel: 01603 752545
Swallows Coffee Shop.
Delicious Cakes & Light Lunches.
24a Market Place, North Walsham.
Arena Cleaning Services
Specialist Carpet Cleaning Service. Est 1993.
Telephone: 01263 833424 or 07876 497897.
Rock Buns & Rolling Pins WI.
Founded in 2013, Rock Buns and Rolling Pins WI is North Walsham's newest WI with the aim to bring women together to have fun, educate and make friends.
rockbunsandrollingpins@gmail.com
Bobs Bread Bakery.
Handmade in North Walsham, Norfolk.
bobsbreadbakery@btinternet.com
Extra Care Mobility.
For all your home help, personal care and mobility aid needs then Extra Care is here to support you.
Tel: 01692 500714.
Stephen Keen Windows & Doors.
23 Happisburgh Rd, North Walsham, Norfolk NR28 9HB
Telephone: 01692 405753
Teresa Butler – Fine Stitching & Embroidery
8 Happisburgh Road, North Walsham, Norfolk NR28 9HB
Tel: 01692 405007. Mobile: 07901830327.
Roger Bean.
Keyboard and Vocals. All the old songs.
Telephone: 01692 651798