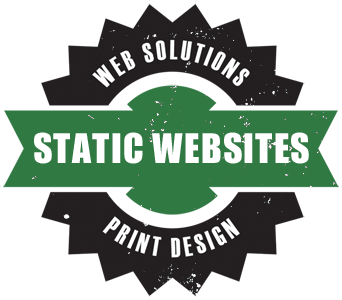 What is a Static Website
'Static Websites' do not change as opposed to 'Dynamic Websites' which do. A static website is created by a website designer and uploaded to the internet. Any changes the owner requires are carried out by contacting the website designer and requesting modifications. The modifications are carried out on the website designer's computer and then uploaded, replacing the original website on the internet.
Why would I want one?
They may seem old fashioned but static websites have a lot to offer. Most sites today are 'dynamic' in that they have adminstration areas where the owner can log in and make changes to the content. This requires the site to use scripting (programming code) to generate the website pages as they are requested by visitors. They do this usually by connecting to a database where the content is stored separately to the layout and design. While this makes dynamic websites economical if the content frequently changes, it has a few drawbacks. Here are the benefits of static web pages…
Often cheaper to host.
Static Websites don't require special facilities to run them
Much more secure.
If somebody guesses your password on a dynamic website they can log in and run riot!
Load quicker.
As the web server (computer which stores the website) doesn't have to run programs, connect to databases and build the page, content is just sent to the visitor direct from the server.
More flexible.
Any website which allows an adminstrator to change the content has to be built on a framework. This often means information is restricted in how and where it is displayed on the page.
Cheaper (often).
Static websites don't require complicated installation and configuration, security measures, etc.
Easier for you.
There's nothing to learn, the website is uploaded and the job is done.