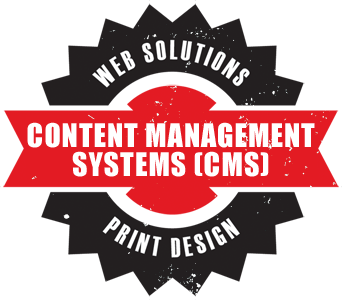 What is a Content Management System (CMS) ?
CMS is a system which is built into your website which allows the owner to easily add, edit and delete pages within their website. The changes to the website appear immediately to the public, are unlimited and cost nothing.
The initial set up costs for a Content Management System on your website are a little higher but once the website is live you have the control to …
add or delete photos on the website pages, upload documents to the website
create new website pages, edit existing website pages
position where website pages appear in relation to other pages on the website
edit and format the text within your pages
create links from your website to other web pages
create your own page title and meta information for search engine optimisation (SEO)
'hide' web pages so you can work on them without them being seen by visitors until you are ready to launch them.
search engine friendly filenames automatically created
set levels to pages so restrict access to registered website members
update the website content from any computer, anywhere at anytime!
Using the content management system is as easy as going to the log in page and entering your username and password. Once logged into your system the CMS administration tools of the website appear and editing becomes easy. Use the web site as you would normally but when you see something you wish to change select the option from the menu to edit that aspect of your website and the web page will change to 'Edit' mode. Make your changes and press the 'Update' button. The alterations to the website will take immediate affect.
WordPress
The most popular 'off the shelf' CMS system is WordPress. Reasons to use WordPress as the foundation for your website are….
WordPress very, very flexible.
The framework if free (although it does need installing and configuring).
It's extendable with many other free 'plug-ins' which give it more features.
It's easy to use with just a little bit of help to get started.
It's so popular that the internet is littered with tutorials, videos and forums to help you. WordPress has it's own, comprehensive website which is free to access. WordPress Help.
WordPress (and it's plug-ins) automatically check for updates which keep it up to date with changes in web and browser standards and for security fixes.
Because WordPress has become an industry standard you will never have trouble finding a designer who is prepared to take the website on if you ever decide to move either hosting or designers.
WordPress is standards compliant so it works well across all browsers.
WordPress is "Responsive" so it adapts to mobile phones, tablets, PCs and TV screen very well.
WordPress is search engine friendly so your website will be optimised for as best as possible for Google, Bing, etc. There is more to it than that as a lot will depend on the text in your website and the link to your website but at least you'll know the website structure is making the most of your copy.
What you will need to watch out for…
Make sure your password is hard to guess and keep it safe. Also change your password if you have any reason to think your WordPress website has been accessed by anybody unauthorised.
Make sure you log in regularly to press the UPDATE buttons. WordPress will check for updates but it is still up to you to make sure these updates are performed. it's simple but essential. As these updates often fix any vulnerabilities found on the system or plug-ins this is very important.
Back up your database regularly. Then if anything does go wrong, such as deleting text or pages by mistake, there is a chance of retrieving them. As part of the WordPress installation I always install security software I trust. I also install database back-up software which makes database back-up a simple, single button press procedure.
Genesis & Themes
Every customer want an expensive looking website on a budget! The best way to achieve this is to use 'Themes' as a starting place. One of the most acknowledged providers of WordPress templates is StudioPress. Their system called "Genesis" adds framework to your website that instantly makes it sparkle and is considered by many to be an essential addition to the basic WordPress system. StudioPress then make a variety of Themes which customise "Genesis" for a variety of purposes. If that seems like too much to think about, StudioPress explain it like this…
WordPress is the engine of your car
Genesis is the frame and body
StudioPress themes are the paint job
You don't have to worry too much about this because I will worry about it for you! You just choose a theme from their page of themes, each with 'live' examples, and I can do the rest.
A full website based on WordPress with a $100 Genesis theme and extra plug-ins and customisation to your requirements can cost you just £400 up and running.
Here's a breakdown ….
A WordPress based website installed and configured with an email address, reliable security software, popular plug-ins installed for contact form, image slider, etc., the Genesis Framework installed and the theme of your choice (usually charged by StudioPress at $100 for any theme with Genesis). All ready to go!
You will then have an annual charge of £60 to cover the hosting for the website, email and database (required).
If you do not already have a domain name I can register one on your behalf based on your requirements at £15 per year for a UK domain or £20 per year for ".com" (others available).
All that is left then is customisation which I can carry out at £30 per hour (or £200 for a day if booked as a block of of time). A basic website with 4 or 5 pages can usually be created within the day.